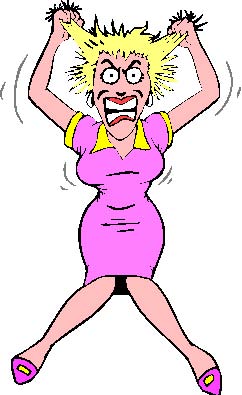 I have always tried to keep the attitude that being a SAHM is a gift that many others would LOVE to have and that I am lucky to be able to stay home with my children.
Well, for the last few days, I would like to return that gift.
My
little monster
darling Liam has been a terror. He has been constantly tormenting the cat by throwing toys (small and large) at her and running full steam at her just to watch her jump out of her fur and scurry away. These things delight him.
He has also taken to undressing. Apparently going commando is all the rage amongst the toddler set. He shrieks. He cries. He stands at the door shrieking and crying and demanding to be taken outside immediately- do not pass go, do not collect $200 or go pee!
The icing on my cake of crap was last evening when I had just gotten most of his dinner cut into bite sized pieces and put on his plate. I turned for a nano second to grab a spoon and he grabbed his plate and flung it onto the floor.
Chernobyl happened again in my kitchen and I was ground zero because this mom had had. enough.
I
shrieked.
I
nearly cried.
I
demanded that he get into his high chair and I left the room. I left the food on the floor and Claire standing there agape. I went into the bathroom and sat there for a couple minutes because I wanted to kill someone.
Of course, I didn't kill him. Or myself. Or anyone else. But, oh God, I wanted to for just a brief few moments.
This gig is hard. It is exhausting. It is 24/7 and sometimes it sucks big time. Moms don't get a break to watch House or read a Jodi Piccoult novel. Nope. We have to wipe bottoms and hands and mouths. We have to clean up crap and puke and listen to whining and crying.
Sometimes I wonder what the hell I was thinking when I signed up to do this.
Don't you??